RootBlock has been utilised for many years and proven successful with all tree species and soil conditions, combatting the unchecked growth of roots in many applications in towns and cities throughout Europe.
The 1 or 2 mm thick RootBlock is a root barrier of the heaviest type from our range (other thicknesses available on request). RootBlock is suitable for any type of root and soil and has for many years been an integral part in combating the unchecked growth of roots in many cities and towns.
RootBlock is cheap, has a high quality and long lifespan. HDPE is a clean and environmentally friendly material and it will not affect the soil like i.e. PVC. That is why RootBlock is 100% recyclable and reusable. The root barrier has a guaranteed lifespan of 100 years. RootBlock is available on rolls of 25 and 50 metres.
The minimum distance from a tree to a partition is 2 m1 (depending on the type of tree, please contact us). This on account of the fact that partitions do not guide roots but only stop them. In most cases partitions are only applied in a linear way, not around trees, or the distance to the tree should be so large that stability is guaranteed.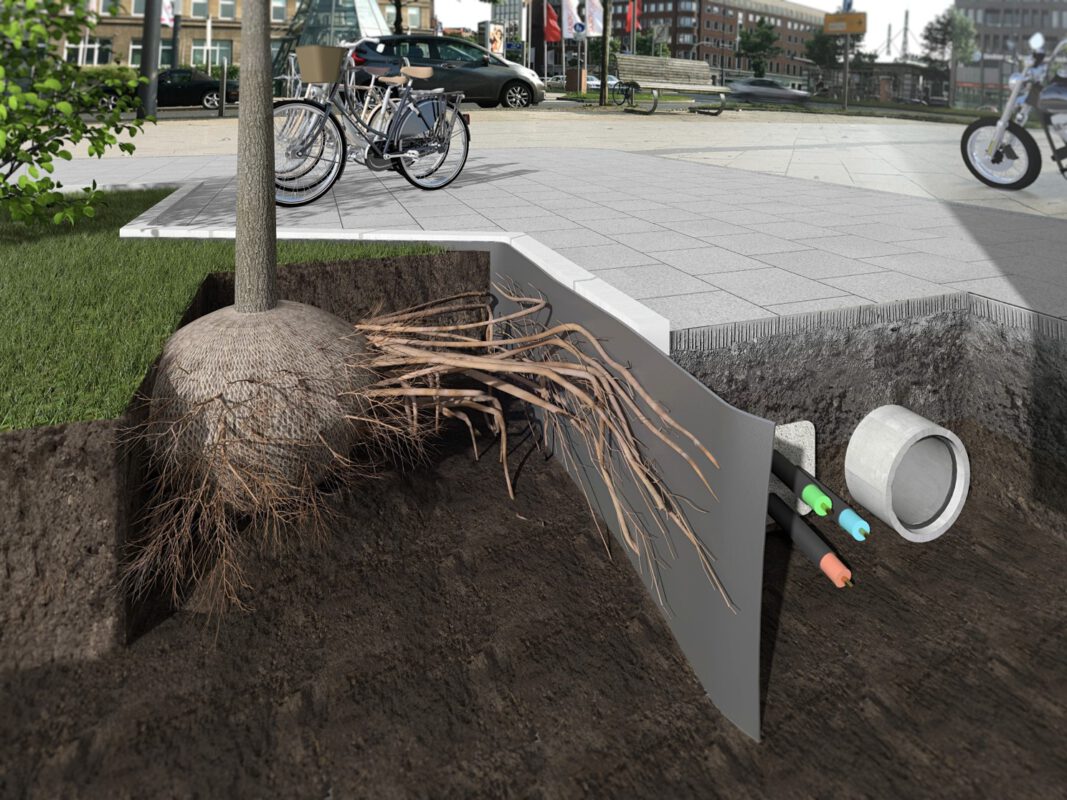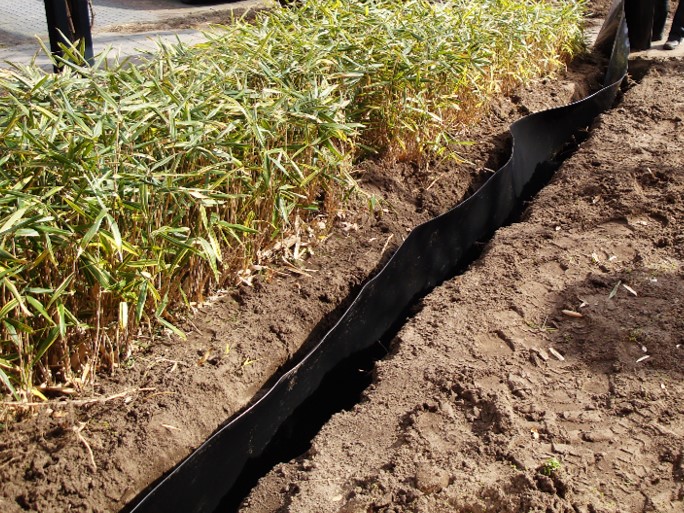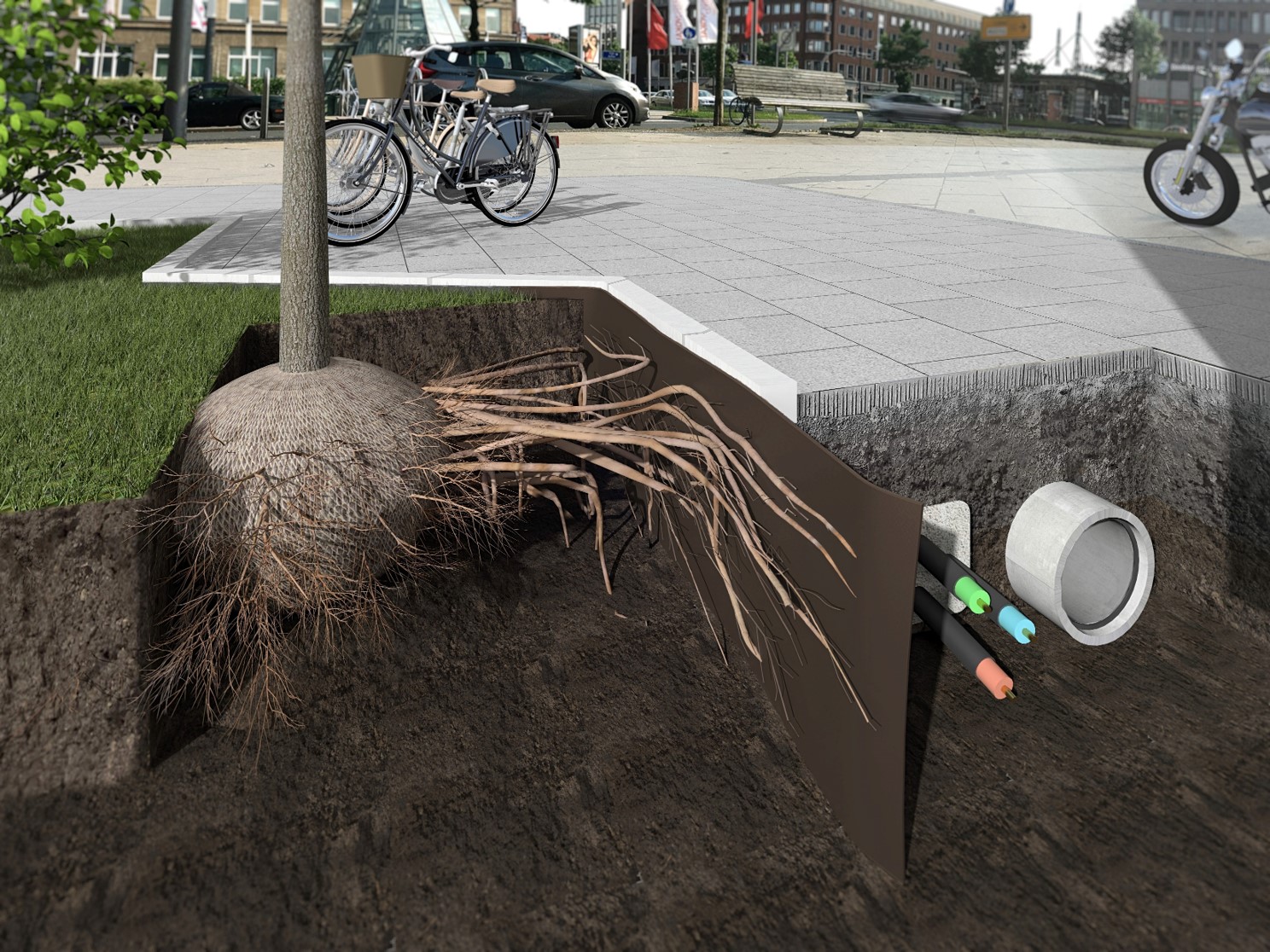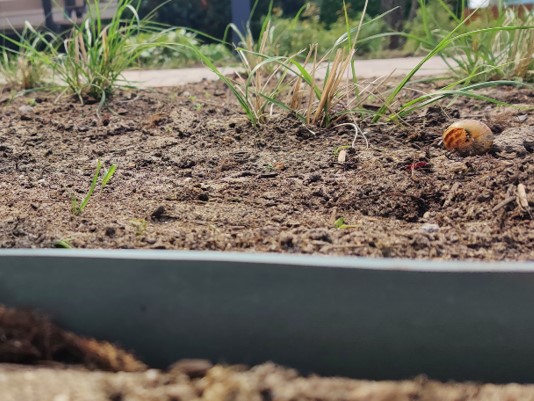 RootBlock Biobased
The established root barrier is made from HDPE (high density polyethylene) and is also available based on Biobased Plastic, which is produced from the waste of sugar cane and is also known as 'green polyethylene'. By re-using the waste from sugar cane a new and sustainable alternative to standard polyethylene can be offered.
The green polyethylene material can be mixed with standard HDPE. This ensures that the Biobased root barrier can be recycled in the same process as the PE root barriers and re-usable many times.
The product is awarded the 'I Am Green' logo. This logo may only be used in products that have the waste of sugar cane as a base material, Using green polyethylene helps to reduce greenhouse gasses. In this way we hope to contribute to the development of the sustainable Biobased green cities.
Circular RootBlock
For a few years now domestic waste has also been separated in the Netherlands. In many municipalities plastic packaging is collected free of charge using transparent bags, also referred to as PMD bags.
Thanks to an improved process, we can now produce new, improved products from the plastics collected in PMD bags, which previously wasn't always the case. Our latest RootBlock, the circular RootBlock, is fully produced from domestic waste only. In other words: from the contents of PMD bags. Obviously, in due time, you can also dispose of this RootBlock as plastic waste, where it will be recycled to be reused for reproduction.

All the different recycled products and colours ensure that the raw material takes on a grey/anthracite colour. It is simply the original colour of the material as it is delivered, without colour corrections, so the colour can sometimes vary.
Do you have any questions or are you interested in our products? Please contact us and we will be happy to help you.